S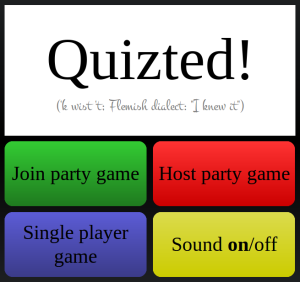 o it's been almost two years since I thought it would be nice to develop a small quiz game. A game where questions would be shown on a big screen and where players would compete using their cellphones. A two week feat, I initially thought. Something simple. Socket.io, html5, some nice design slapped on top of it, and done.
Now we're almost two years later and the project has grown from a quick proof of concept to a full fledged indie game. A project with budgets and market research and marketing and pr and distribution and apps and builds and steam and employees and partnerships and trademark issues and …
Oh, and a €40k subsidy from the Flemish government. Yay. A blessing, for sure. With this subsidy we raise the quality of the game to something that is actually worthy of some money (I hope). With it we can build the community framework that this game desperatly needs. And most of all, with this subsidy I can finally give this project all my attention.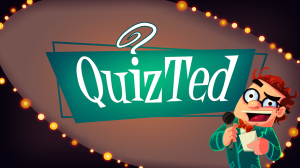 It's already half a year ago that I've assembled my little QuizTed team. All 3 of them students. Ken, our marketing guy and manager-of-everything, Yannick our second code monkey and Katia, our design guru. A summer of developing, and afterwards we'd see what happens.
I had some money to spare and I really wanted to make this one work, so I just went for it. I had no idea if I'd make back the investment, and honestly I didn't really care that much. I just wanted to make something awesome, something that I could play with friends. And these guys would help me make that possible for the price of a modest car. And it would be tax deductable…
Summer ended and the project had grown some more. We would implement a unique soundtrack, so I hired two student-composers, Michaël and Pieterpauwel who composed one for us. We would do voice over commentary, so I looked into voice artists. And the graphics would have to be amazing, so Jolanda drew something nice for us.
And suddenly I wasn't developing a game anymore; I was managing a project.
Summer ended and the funds ran out, but the team stayed. The subsidy request was filed. Questions about full time positions were raised, but all I could say was: "I don't know, it depends on the subsidy". And even in this uncertainty, we kept working, and I'm unbelievably proud and thankful for everything we have achieved already.
And now the subsidy is granted. And I'm happy for that, really. I'm very happy.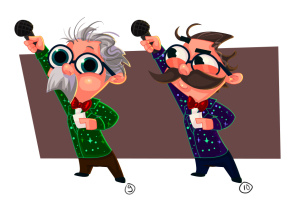 But now, when I lay awake at night, I'm not thinking about cool features anymore. I'm not thinking about game concepts or changes I could make to our open source libraries. I think about how I'm going to spend that money in a way that we can make this project work.
I'm thinking about how I can reward each team member for their unbelievable awesome efforts, without bringing the budget at risk. I'm wondering how the hell I'm going to resolve these trademark issues. I'm wondering if I should do most of the coding myself, or if I should spent a cut of the budget on a second developer. And are people really waiting for a cross platform quiz game?
We've started on this road and there really is no going back. This time it will work. This time we have a solid project. This time there is this bunch of really awesome people who want to see this game succeed as much as I do. So time to get smart, damnit, and go kick some ass.
But if this one fails… what then? I just hope I don't have to write a post mortem soon…